Sure Bet is a full line vending company that is a subsidiary of Royal Crown Bottling Co. Sure Bet carries both snacks and beverages. To talk to a representative please call 1-304-725-8100 ext. #2.
Coin Operated Machines
Royal Crown Bottling Co. offers vending opportunities in several ways. Coin operated machines are available in vendors that will dispense either a 12 oz. can or a 20 oz. bottle. Our coin operated vendors are equipped with dollar bill acceptors.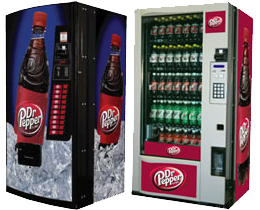 Visual Coolers
Visual coolers are also used to vend. Visual coolers are upright; glass fronted refrigerated equipment that does not accept coins or bills.